Earlier this month, NCT 127 came out with a music video for 'TOUCH'. Here's how you can get one of the main looks from the video for yourself!
Here's the MV:
We are focusing specifically on the pink and white outfits the members wear throughout the video. It is a great look to usher in the spring season!
It's a very cute and soft look, which seems pretty comfortable. It reminds me of marshmallows (which is not a bad thing in my book!)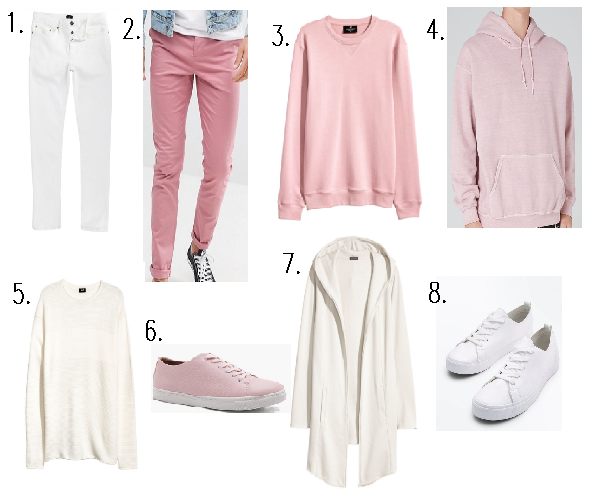 White Dylan Slim Fit Jeans – River Island: £40
ASOS Skinny Chinos In Dusty Pink – ASOS: £12
Sweatshirt (Light Pink) – H&M UK: £17.99
Pink Washed Hoodie – Topman: £25
Textured-knit jumper (White) – H&M UK: £17.99
Perforated Side Smart Trainer (Pink) – boohoo.com: £15.40
Long Cardigan (Natural White) – H&M UK: £29.99
White Low Top Trainers – New Look: £17.99
Pink items are still fairly hard to come by in the Men's section of clothing shops and websites, but thankfully, things seem to be gradually changing and men are getting a slightly wider selection to choose from fashion-wise nowadays.
These jeans and knitwear will help keep you warm during the colder spring days. So it's up to you if you want to go all the way and embrace your more feminine side and look pretty in pink.
Then again, who says pink is just for the ladies?! Wear what you like, dudes!
[Source: River Island Website, ASOS Website, Topman Website, H&M UK Website, boohoo.com, New Look Website].