BlackPink's have long established themselves as a group who are always decked out to the nines in designer clothing and accessories, and this comeback is no exception.
Ddu-du Ddu-du is an aesthetic music video through and through – from recreating an exclusive runway show to lounging on a crystal-encrusted tank.
While most of the clothing BlackPink wear in music videos are usually tame in fit and silhouette: form-fitting body-con mini dresses, high-waisted shorts, long evening gowns made of chiffon or silk. The way they dress it up is what makes it truly stand out. Bold colours, prints, and sleek makeup make them look high-class.
Their style is a mix of high-end and low-end items, things that you could find in the window of a chic boutique and what you could find in your high-street.
Below, we've listed out eight key items, as seen in Ddu-du Ddu-du, that you can recreate for less.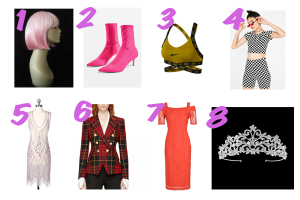 Annabelle's Wigs – Pale Pink Dip Dye Wig – £27.99
Topshop – Mojito Sock Boots – £20 
Nike – Logo Support Bra – £31.95
Dollskill – Checkered Set – $25
The Deco Haus – Beaded Fringe Party Dress – $399.95
AlieExpress – Double Breasted Plaid Jacket –  $52
Kaleidoscope – Petite Lace Cold-Shoulder Dress – £39
Lola & Alice – Rochelle Crystal and Silver Tiara – £87.50
BlackPink's fashion eccentrics is well noted. And, especially in Ddu-du Ddu-du, it lies firmly in the accessories department. They layer chunky, oversized necklaces and pull on a pair of slouchy, blue boots to finish off a clean blue ensemble. BlackPink's looks are always unique to them.
So pull out your short-shorts and bring out your military-style boots. Make sure your accessories are big, bold and colourful. Make them chunky, make them sparkly or make them large – just make sure you own it!