New girl group SATURDAY give us this very cute summer look in their debut music video 'Mmook Jji Bba'. Let's explore how we can get this look!
Here's the MV:
So, there is a more formal look in pinks and yellows, and  then a casual look with bold patterns.
Though the girls are going for a more school uniform vibe with their first looks, you could actually use this style as inspiration for your work or job interview clothing. It's always fun to add a pop of interest to your look – perhaps with a pussy bow blouse or coloured blazer.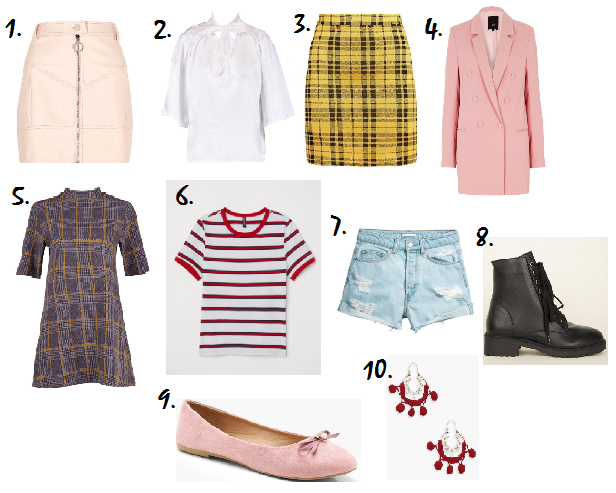 Light Pink Faux Leather Zip Front Mini Skirt – River Island: £15
Satin Pussy Bow Flute Sleeve Blouse – boohoo.com: £10
Yellow Check Tube Skirt – New Look: £12.99
Pink Double Breasted Style Blazer – River Island: £35
Petite Turtle Neck Check Shift Dress – boohoo.com: £16
Short Jersey Top [White/Red Striped] – H&M: £8.99
Short High Waist Shorts – H&M: £17.99
Black Lace Up Chunky Boots – New Look: £27.99
Pink Bow Trim Ballerinas – boohoo.com: £10
Pom Pom Boho Hoops [Wine] – boohoo.com: £3
Alternatively, you might like to go for a cute t-shirt, skirt/shorts and boots as the members do in another part of the music video. It's a perfect summer look – and you can mix it up and make it your own with the colours and style.
Finish it off with some fun accessories like pom pom earrings or pom pom headband, and voila!