On Saturday 28th September, kpop idols tore up the SAP Arena in Mannheim, Germany
The Finger Heart Festival promised an immersion into Korean pop culture, giving attendees a chance to get a taste of the country's fashion, beauty, food, and – of course – the music. Headlining the main event were an array of K-Pop idols: MONSTA X, WJSN, KARD, and Jeong Sewoon. Each, as we found out later, were beyond excited to be part of the festival.
Feeling sceptical at first, as my experiences with kpop concerts have not been the best, I decided to book plane tickets to Germany, buy Front of Stage tickets for the Festival and see my ultimate group, MONSTA X.
AN ENTHUSIASTIC ATMOSPHERE
Arriving at the venue, it was clear the organisers meant to deliver on their promise. Tents were pitched outside, each containing a piece of Korea underneath. Some of these included:
Samples of Korean food, such as fried or steamed dumplings filled with meat and kimchi, as well as a hot dog stand for those that wanted a taste of home;
A stage where a cheerful dancer taught fans, step by step, their idol's intricate choreographies;
And Kbeauty courses that aimed to reveal the secret on achieving the perfect Korean makeup looks.
The fans also turned out in masses, donning merch and bringing banners and light sticks to support their favourite idols. Notably, many chose to wear official concert merch, with many MONSTA X fans opting for the WE ARE HERE tour t-shirts. A spontaneous 'random dance challenge' was set and all too soon, had attracted a large crowd. As well as this, I could see freebies such as self-made photocards, cup sleeves and banners, being distributed.
Finally, by 15:30, the line for the Front of Stage ticket holders started filling up; the main event was about to begin. Rare for a Kpop concert, this was well organised and straightforward. When I had attended the MONSTA X concert in London, there had been ticket problems due to an error in the system and some fans had been refunded. I was grateful that this event had avoided such an issue.
True to their word, the organisers had given Front of Stage ticket holders a wristband with their number in line written on it the day before, and they intended to stick to it. There was a chorus of "what's your number?" as fans attempted to find their places according to the numbers on their wristbands. In some cases, security also helped by double checking numerous of times that everyone was in their rightful place.
By 16:00, the line was long, places were relatively filled, and the only thing that stood between us fans and the kpop idols was the security. Soon enough, security were given the go ahead and the line began to dwindle as fans were allowed inside. All around us, unallowed power banks were discarded on the ground, the fan's dedication to their idols shining through.
Once inside the venue, places were quickly filled, those lucky enough to be at the barricade safeguarding their claim on their front-row spots. It was another hour until the lights dimmed, the fans who had been chanting for their idols became louder in anticipation for what was to come.
THE CONCERT
Prior to the concert, the question on our minds was how long each artist would have to perform. With a total of four artists with four hours to perform, it was the unspoken hope that each artist would have a relatively long set, despite their differences in popularity.
A DJ duo emerging on the stage answered this question, leaving fans baffled. However, it was clear they were here to stay and fans, resigned, joined in on the fun. We had been patient this long, after all. Next, came the organisers of the event. They talked a little about the event, promised more fun was to come, and left. Another intermission.
Then came the first idol to grace the stage: Jeong Sewoon.
Dressed in a suit and not a hair out of place, he launched into his first song to thunderous response. By the end of the song, the shy demeanour he came on stage with had been replaced. He could feel the crowd's warm response and soon he was joking with fans. For his ment, he talked about how excited he was to be in Mannheim, laughed with a fan who yelled out "Ponyo" – his fan-given nickname – and launched into his next song.
A couple more songs later, he picked up lucky fans' names out of a box and diligently reminded to pick up their winnings. Then, he was gone.
Next came KARD. Their energy was unmatched from the beginning. Like Sewoon, they quickly built a rapport with the crowd, with leader BM aiding the group with English. Quickly, both KARD and fans alike became comfortable to joke with each other. Despite the obvious barrier between the stage, the atmosphere was one of familiarity. BM, in particular, made sure to maintain eye contact with the crowd; it was obvious his persona on social media transferred to real life.
The other members were at ease too. Somin and Jiwoo focused on interacting with fans whilst J.Seph, as quiet as I'd expect him to be, patiently waited for his turn to speak, smile never leaving his face.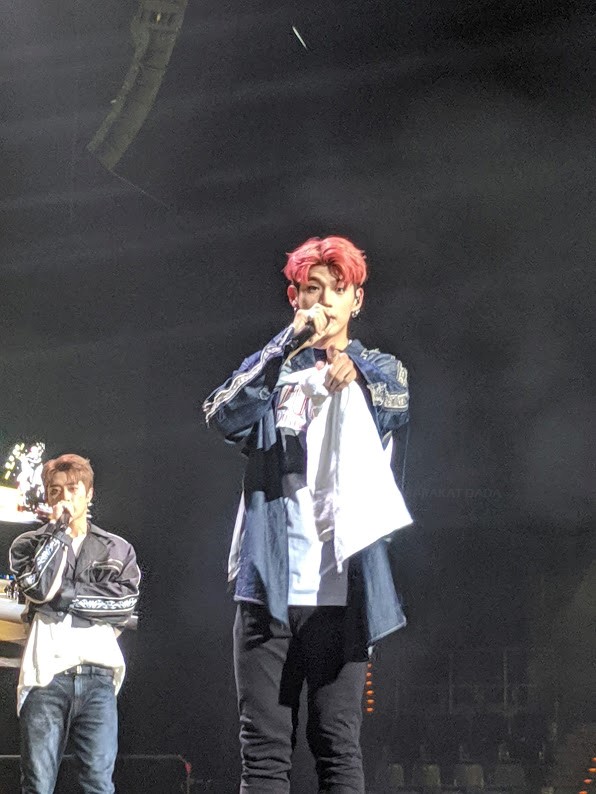 All too soon, after performing their newest title track, 'Dumb Litty', their set was over. It was time to welcome the festival's only girl group to the stage.
WJSN (Cosmic Girls) dressed in the immaculate costumes one has come to expect from Starship artists and launched straight into their opening song, once again, to thunderous applause. With flawless synchronisation and clear vocals, they made their presence known. Various members looked over the crowd, smiles wide as they saw the array of banners and light sticks shining for them.
Their set also followed the same formula: their first song, followed by an introduction and a short ment, followed by a couple more songs. I remember their performance of their summer hit, 'Boogie Up', the most. Happy smiles never leaving their faces, they pumped the audience up. Turning to a friend who only knew MONSTA X, I could see even she couldn't help but move along to the song. Their energy was infectious.
However, very soon, their performance was over too.
With the German flag in hand and a couple of fan letters, they left the stage.
It was time for the final act, Starship's global boy group, MONSTA X
Having personally travelled to Germany to see MONSTA X, I was excited.
The seven-member group came on to the stage dressed to the nines, with colourful hair, and coordinated and tight leather pants galore. This was the trademark MONSTA X look in full force, as GQ describes as "destroying masculinity".
They opened with 'Alligator', before introducing themselves.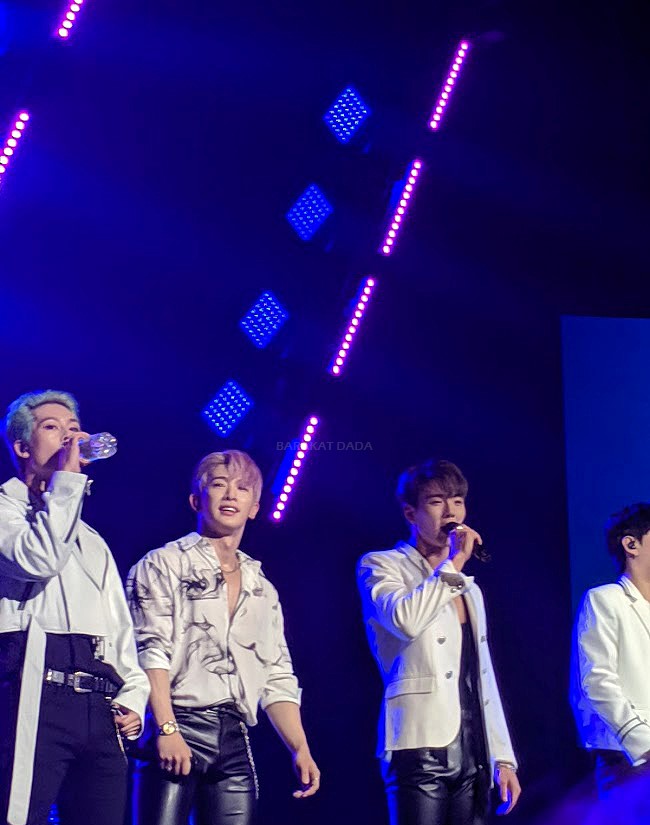 Next, came 'Jealousy', which was aided by fan chants from the crowd. When not at the centre singing, the rest of the members interacted with fans, with little smiles and waves that made the arena feel a lot smaller and more personal.
When it was time to choose the lucky fans who would win personalised gifts, the members took the opportunity to interact with fans and even asked for their help to pronounce names.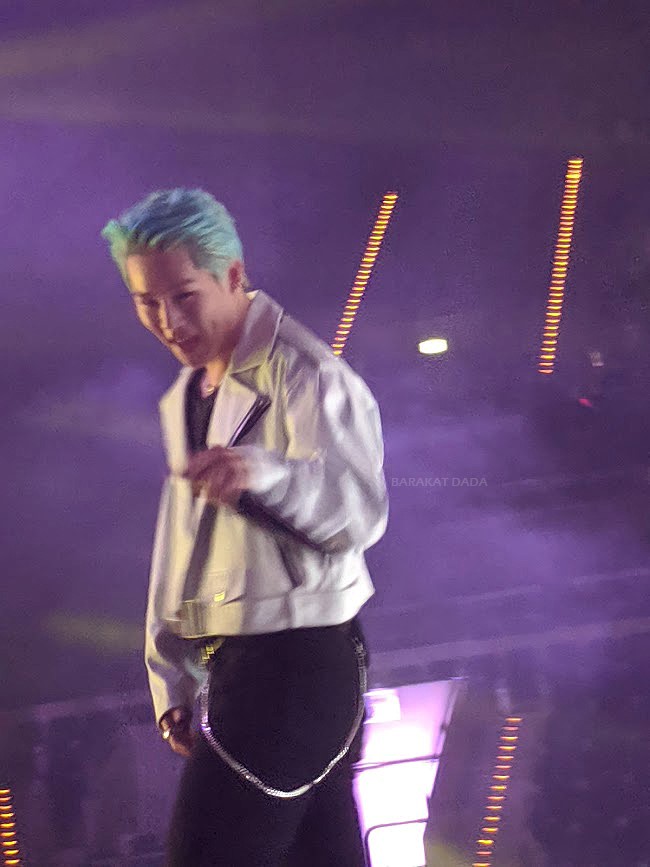 Belting out two more songs and exciting the crowd with songs like 'Rodeo', it was time for their stage to end. I could hear their thanks as they moved off the stage, with Kihyun taking off his jacket to don the German flag, as taken off a fan.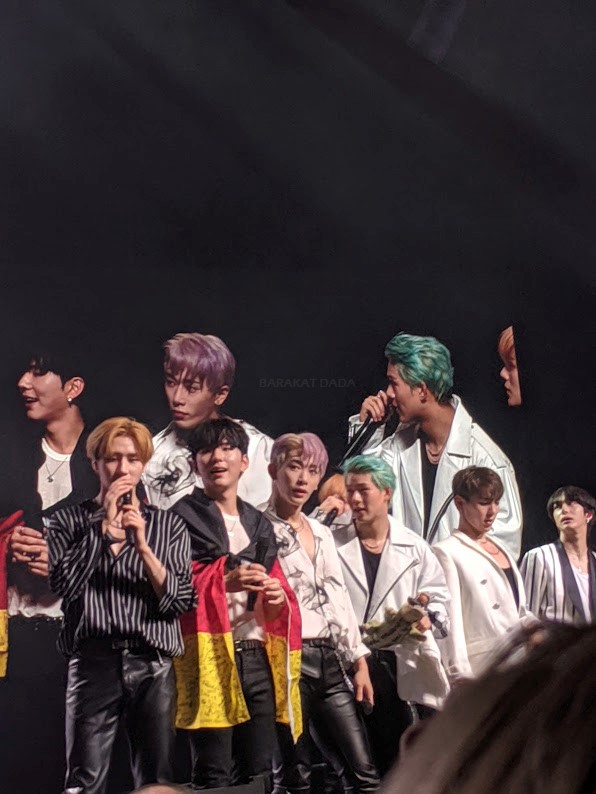 THE END STAGE
With everyone having performed, all artists returned to the stage for the final greeting. Ments were spoken in the order in which they came, with MONSTA X – being the senior artists of the festival – giving the final ments and once again thanking fans and promising to return.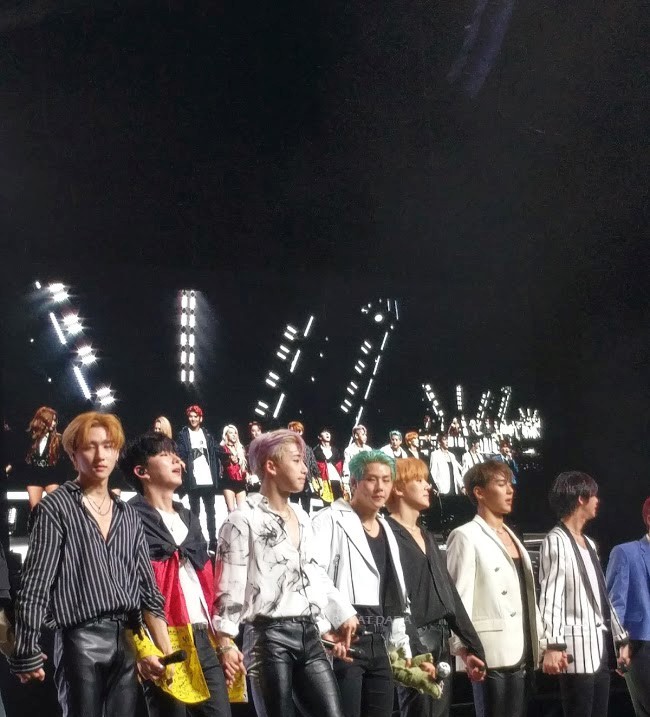 Although the performances had to end, the final moment was one that we had been waiting for. Leaving the main stage, the artists walked around, collecting banners, posters, and gifts from some of the lucky fans. KARD's BM made sure to collect a poster from a fan that said 'BIG TIDDIE GANG' and gained a lot of attention from the audience. He also made sure to hold it above MONSTA X's Wonho and Shownu, earning a laugh from Shownu, who was the only one to notice. With BM having formed the committee months ago and to see all the members of the committee on one stage, this was arguably one of the highlights of the night.
Finally, with a last goodbye and thanks towards the fans, the artists left the stage and the lights came back on.
Leaving the venue, the only thing on my mind was just how many pictures of MONSTA X I had managed to fit into my phone, and all complaints of tired feet brushed to the side as I scrolled through my folder. Despite not understanding German personally, it was obvious from the smiles on everyone's faces that this was an event they would not forget.
I also shared that sentiment. The event was worth it, as I constantly repeated to my friend. In comparison to other kpop events I had attended – both times to see MONSTA X – this was the most well done. The organisers, although difficult to communicate with sometimes, stayed true to their word. The numbering system was well done, the day's itinerary was kept, and each artist had ample time for their stage. Whilst the DJ duo did throw us by surprise, it was easily forgotten in favour of the idols we were there to see.
I left the venue with the feeling that the money spent on travelling to Germany was worth it. My phone was filled to the brim of pictures and videos of the artist I most wanted to see, and the day had gone with as little stress as possible and I had fun.
If another Finger Heart Festival were to be thrown for next year, I would not object.
If you missed out on this year's Finger Heart Festival, you can view their after-movie below.