It's spring! The sky is blue, the sun is out, and sadly, most of us are indoors. But fear not! It won't last forever, and even though these quieter times, there are a few places that have remained open. Parks are one of them. In Seoul, there's no park more famous than the park that runs alongside the Han River.
Although, to call it a singularly park would be a mistake. Hangang Park is actually divided up into 12 smaller parks, each of which has its own specialties. Built through 1982-86, they were created as part of the Hangang River Development Project, aimed at developing an environmentally friendly space for Seoulites and foreigners alike to visit. The improvement of the entire Hangang area continues to this day and is meant to continue until 2030, with the Hangang Renaissance Project. This consistent development has made the parks of the Han River incredibly popular places to hang out and provide some iconic sights as well. The river itself has never been used industrially, due to it's proximity to North Korea. This means that the river and the areas surrounding its banks are reserved solely for recreation.
Probably the most instantly recognizable of the parks is Banpo Hangang park, most likely because of Banpo Bridge and it's beautiful illuminated water displays. It's a popular filming place for many a drama too, so fans will be able to spot plenty of recognizable locations on a stroll through the area. There's also the floating islands, or Some Sevit, which from which boat cruises set sail. Banpo Hangang Park is the perfect location to sit down on the grass in one of it's large, open picnic spots and watch the water show as the sunsets. And of course, who can forget one of the most unique aspects of going for a picnic at a park in Seoul? No need to take your own food. Takeaway restaurants will bring your orders directly to you or meet you at the entrance of the park, so you can grab whatever tasty snack you want.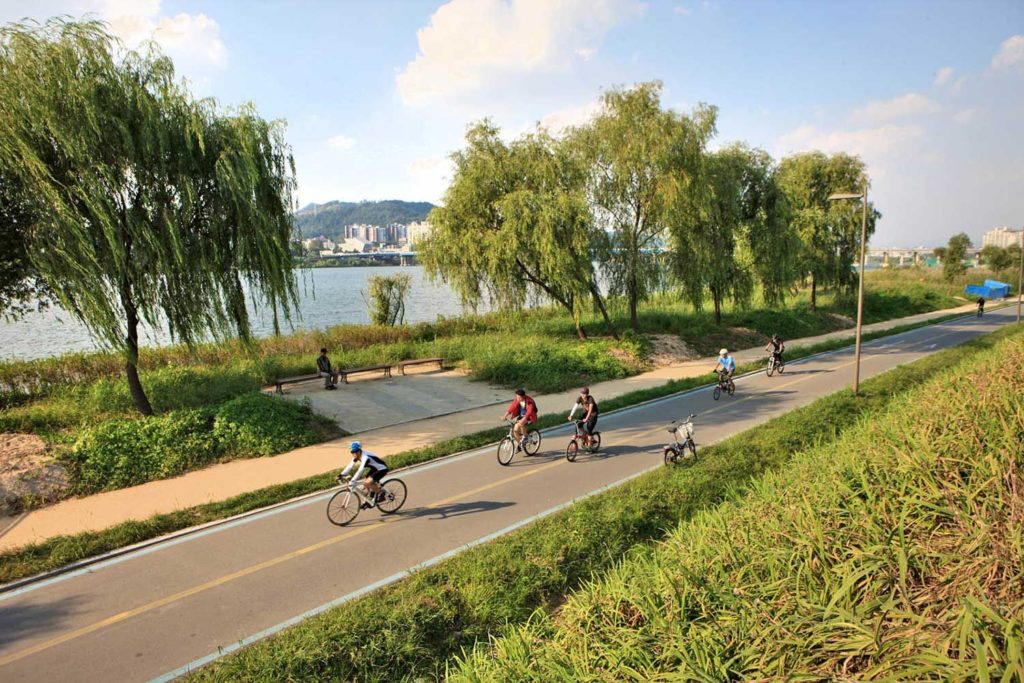 That's not the only option for food, though. The many parks provide the perfect spaces for festivals – from large, yearly events such as the Nanji Hangang Park Festival to smaller food festivals littered with stalls and trucks selling an array of street food. In fact, Nanji Hangang Park is one of the most varied areas there is. The site has access to the huge World Cup Park, which is covered in flower fields and even forested areas. There's also an infinity pool to check out if your thinking about going for a playful swim in shallower waters, and a campsite next to an ecological wetland. Despite all this, it's a relatively quiet spot as it's a bit more tucked away from easy transport than some of the other parks.
Another more popular location for the exact opposite reason, Yeouido Hangang Park is one of the most visited areas, and the most promoted. Thousands of people flock to picnic on its green expanses, and a number of art installations often appear as part of the Han River Art Project. Because of its size, this park also plays host to a number of festivals. The most prominent of this is the Seoul International Fireworks Festival. It's a massively popular event, leading the area to fill up with spectators all gathering to get the best view of the spectacular show.
Ttukseom Hangang Park is another spot that might be recognizable to those who watch a lot of K-Dramas. One of its highlights is called the J-Bug Culture Complex – a building so named because it's shaped like a giant centipede. With a cafe and seating spots, its a great place to go to watch the river go by outside as well as having access to the lovely outdoor space just beyond.
Each of the areas that make up Hangang Park provides something a little different and something for everyone. For more art installations and sports areas, Ichon Hangang Park is the place to go; Mangwon Hangang Park offers a chance to see a giant ship and submarine docked in Seoul Battleship Park; Or if you'd like to take a ride on some traditional Korean boats to Seonyudo island, head to Yanghwa Hangang Park during the Hangang Summer Festival; For a less developed, off the beaten track adventure, Gangseo Hangang park is the place to go. The list goes on to include Jamsil, Gwangnaru, and Jamwon parks too.
Seoul may be one of the busiest, most advanced cities in the world, but that doesn't mean it lacks for its beauty spots. The Hangang parks prove that the cultural and recreational development of the city is alive and well, and will only grow as the years go by. If you get a chance to visit, try to make a stop in every park you see, or grab a bike rental and cycle your way across each. There will be something new to find in every single one.