After months of post-it notes, petitions and billboards of support across the globe, Wonho has made his much-anticipated return to the Kpop industry. His solo debut sparks a new beginning for the former MONSTA X member, and he plans on taking us all along for the ride.
"Love Synonym #1: Right for Me" is the album that, technically, should never have happened. In an industry that expects perfection, a scandal risks ruining a star's career for life. Take the recent AOA bullying scandal, for example. But Wonho has overcome the scandal that once threatened his career, clearing his name from drug and debt allegations, and now he's creating a new definition of love through an eight-track mini-album to thank the fans that stuck by him.
A New Beginning
The mini-album starts strong with "Open Mind". An electric pop track that screams Taemin, Daft Punk and Michael Jackson, the song has a funky, eighties-style instrumental that makes you get up and bop along to the beat. The highlight of the song is most certainly the deep bassline, creating an addictive melody that complements Wonho's husky vocals. The only downside? It feels too quick. It's easily forgivable though, as the solution is to listen to it all over again.
What's also interesting about the song is the contrast between the lyrics and the MV. Whereas the Korean lyrics appear to ask us to view Wonho with an open mind as he begins his new journey, the MV sums up his journey, presenting his determination to conquer this new world with the same open mind. Unfortunately, the English version chooses not to resonate with this, using lyrics that instead amplify the sensual scenes in the MV.
Contrasting this upbeat opening is the self-composed song, "I Just". This song, on the one hand, acts as an ode to the songs he produced as a member of MONSTA X ("From Zero" is one example). At the same time, the repetition of the lyrics and melody encompasses the feeling of loneliness that comes with his new-found journey. The highlight is the relaxation that comes from the song's slow, gentle melody, which is accompanied by Wonho's soft, high-pitched voice. However, one must ask if the song is too simple and incomplete for a singer with years of production experience, or whether there's a deeper meaning behind it?
A Love Letter to his Fans, Wenee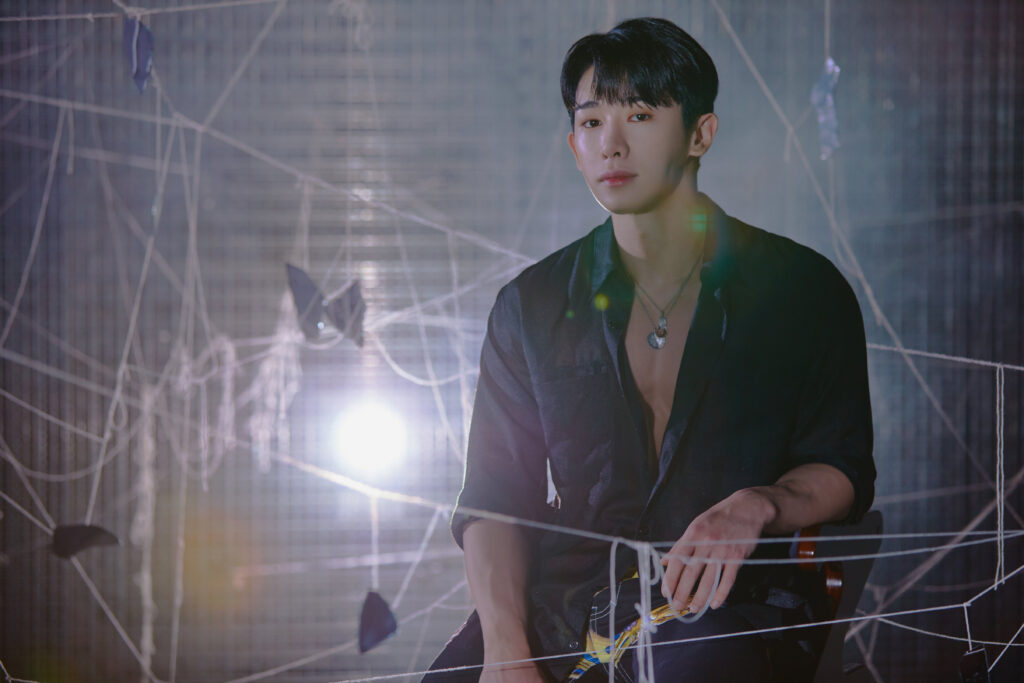 Then comes another self-composed song, "Lost in Paradise". This song takes the relaxation of "I Just" and adds an upbeat tropical sound to turn the loneliness of his new-found journey into a love letter to fans. This time, Wonho tells his fans that feeling lost is like a paradise sometimes, because he has his fans. I'll admit, when I first heard this in the preview, I didn't think much of it. But boy was I wrong. The composition of this song feels more well-rounded and completed than the previous tracks, demonstrating Wonho's improving abilities as a producer, as well as his potential as a solo artist.
This becomes the perfect gateway for the ultimate love letter, "Losing You". Originally released in English as a pre-release, the Korean version amplifies the message Wonho wished to convey to his fans, with lyrics such as "dazed in the time that I lost you, I forget how to breathe" and "please don't allow me anything other than you" making you realise how much the fans' support last year meant to him.
The English version, penned by UK songwriters Corey Sanders, Jon Maguire, Neil Ormandy and Nick Gale, is also included as the final song of the album. However, the lyrics of the Korean version give Wonho a canvas to confidently strengthen the bond between him and his fans, Wenee.
A Powerful Ending
Transitioning into "Interlude: Runway", we rest from Wonho's vocals for a bass-heavy instrumental. Wonho mentioned he was inspired by runway models for this track during his showcase, and it certainly has that feel.
You end up anticipating the next song, and it doesn't disappoint. "With You" is bold and fierce, with lyrics that ooze with confidence ("I'm a thrill, I'm so dangerous"). Penned by former labelmate Jooyoung, the song brings out Wonho's smooth and enticing vocals along with a heavy electronic instrumental, and the two Spanish lyrics are just as addictive as the RnB melody. This is exactly what the album was missing, and it will be on repeat for a while.
Finally, the album ends with English versions of "Open Mind" and "Losing You". The aim to appeal to an overseas audience as well as a domestic audience is understandable. He had originally been due to promote "All About Luv" with MONSTA X before his departure, and overseas fans also joined the campaign for his return. However, ending with these songs appears to emphasise his strength and determination. A 2019 fan sign had previously caused criticism for
a misinterpretation of Wonho's English
. Thus, it is a sign that he has overcome that and is back stronger than ever.
Final Verdict
"Love Synonym #1: Right for Me" is, overall, an album that looks back at the last ten months. Wonho uses his thoughts and emotions to power this album, giving us a chance to explore his vocal tone in ways we hadn't before. Whilst some tracks could have benefitted from a final polish, the album proves that Wonho is a talented artist and composer who only keeps on growing. Yes, "Love Synonym #1: Right for Me" might have been an album that shouldn't have existed, but I, for one, am grateful it does exist.