The UK's largest independent punk festival, Rebellion, is held annually in August in Blackpool.
After a two-year hiatus of the physical festival due to the pandemic, Rebellion is back and bigger than ever with a new headliner stage on the promenade. Headliners this year include Gary Numan, and The Stranglers, with staple acts such as Stiff Little Fingers, Buzzcocks, and Cock Sparrer also playing over the four-day event.
Punk is still an ever-growing genre and Rebellion includes an Introducing Stage showcasing a variety of newer talent. For the first time in the festival's history a Korean punk band will take to the stage today.
Rumkicks, a female trio, play the Arena Stage today at 5.45pm.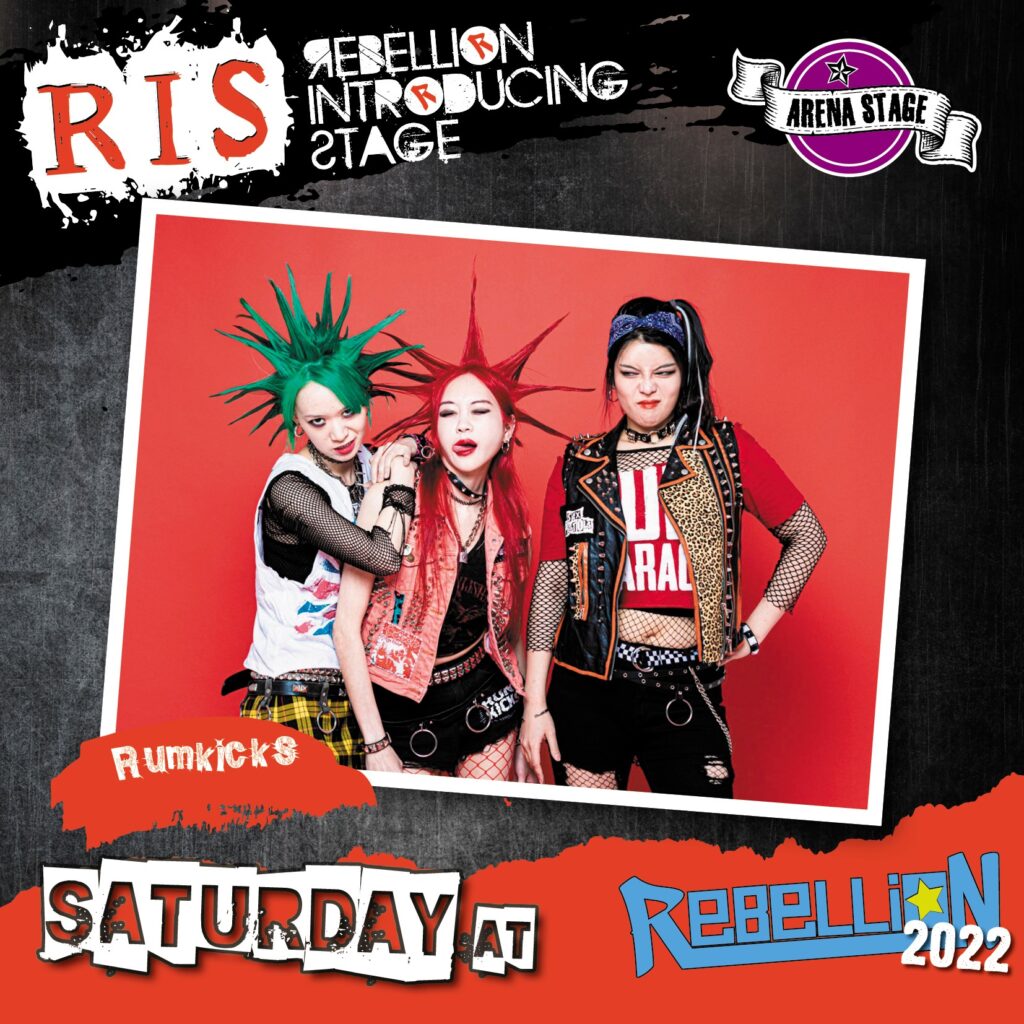 L-R: Yeawon Jeong (Vocals, Guitar), Dorothy Hi (Bass), MJ (Drums)
Rumkicks have been drawing attention in Korea – both positive and negative – for their music and appearance. Where Korean Punk has often embraced the sound you would expect, the visual hasn't often been the one associated with the more extreme non-conformist visuals of the genre. For those who have been to Rebellion, the sea of brilliantly coloured Mohican spikes is nothing new, but it isn't a regular sight in Korea, even on Hongdae.
This 'difference' has greatly inspired the punk narratives of Rumkicks music. "PUNK is nowhere" released last month contains hate comments sent to the band including judgment on their validity within the genre such as accusations of cosplaying punk and using punk as fashion. Interestingly, there can be a lot of gatekeeping of punk – a contradiction to the foundations of the sub-culture's non-conformist DIY sense of misfit belonging.
March 21's "Don't Touch My Head" was inspired by someone touching Yeawon's spiked hair and the fight that followed.
Rumkicks have also been vocal about mental health and neurodiversity. "Proud of Madness", a tribute song for Mad Pride Seoul a Mental Health and Neurodivergence awareness festival displays their pride in their own neurodivergence. The cause is incredibly important to the band, and they released a statement alongside the release supporting the need for change in the media portrayal of mentally and physically disabled people in South Korea.
After attending the festival on numerous occasions in the past – including to interview Korean punk fashion designer Bajowoo, this writer is inciredibly disappointed to be missing Rumkicks' debut performance at Rebellion. We hope to see them (and other Korean punk bands) return to the town for future years of the festival.
View this post on Instagram