For today's "Resource Review" we will be looking at online shopping site Koreadepart.

Koreadepart has a simple layout. Think of department store websites that are local for us such as John Lewis and Fenwick. The website colours are not over the top with so many animations and presentations. You're presented with a white background and an orange-red colour scheme for some of the headers. The site is global and you can read the text in different languages.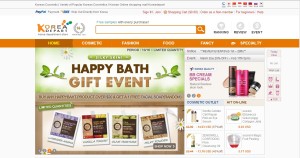 A slideshow plays on the home page and displays the latest sales for customers. As you can see from the screenshot it says you get free samples with every purchase (and yes 'happybath' had a small typo there). I ordered twice from KoreaDepart when I purchased Nature Republic hand creams and in both parcels I received a lot of skin cream samples, plus one shampoo sample.
I only just discovered Koreadepart last Christmas after a fanbase for an idol group linked to it on their website to preorder specific items. Going by a quick browse, the site is really easy to navigate. The menus have an extensive list of Korean products. So whether you are looking for food, skin care, nail polish, lip stick, eye make-up, cute stationary like what you get in Artbox or even clothes, you're very likely to find the popular brands listed.
It's not KpopTown so don't expect to find official Kpop merchandise, CDs or DVDs. However you may strike lucky if you are searching for idol-endorsed beauty products. You want your favourite beauty products or specific food like Lotte branded goodies, then you'll most likely be able to buy them on Koreadepart. There are also lots of discounts and product box set sales floating around daily.
As far as shipping and postage goes, it'll of course depend on how much you order and how fast you want the items to arrive. Unfortunately you'll have to work out the prices yourselves using a currency converter since there is no Pound sterling option on the site (it's in USD). You can pay either by credit card or by PayPal. My items were despatched rather quickly, perhaps five working days after I placed my order and they arrived at my doorstep ten days later approximately.
You don't have to register if you want to place orders but if you do register, you can gain points each time you shop and the points will turn into redeemable coupons. You can also save your items in a wish list if you don't want to buy them right away.
Here is the website link if you want to have a browse around.
Have you ever ordered from Koreadepart? What do you think of the site?
Please feel free to share your thoughts