Welcome back to this week's Get The Look, where today we'll be looking at something a little different from Kpop looks – how to get the look of the female antagonists in k-dramas.
So, lately I've been on a bit of a drama binge, when it suddenly hit me that depending on whether a character is a protagonist, antagonist, love interest or friend, they tend to always follow similar dress codes from one drama to the next. Today, I've chosen to take a look at the very distinctive style of the female antagonists in dramas who tend to wear tailored and professional-looking clothes. They are always impeccably dressed in feminine styles and bright colours; blazers, form fitting dresses, mini skirts, blouses, and high heels. This is shown well with characters such as Hong Se Na from Rooftop Prince and Shin In Jung from 49 Days, among many others.
So let's take a look at how to recreate their style!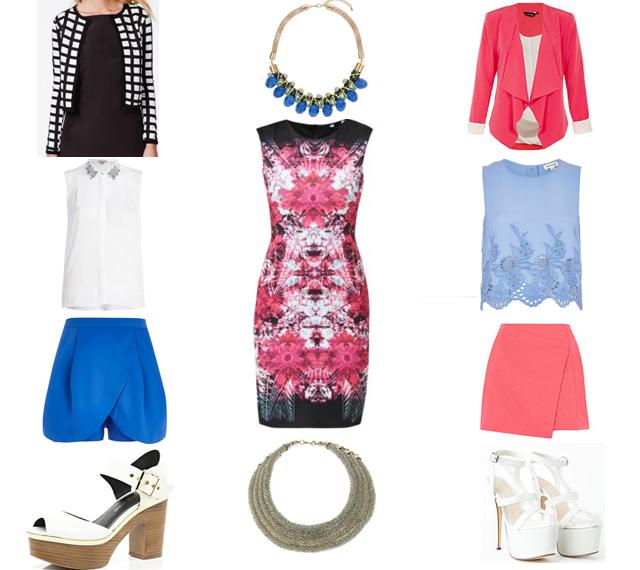 (Information about the items in this picture can be found at the bottom of the page)
Basically, these outfits are comprised of bright, trendy work wear that rarely fails to make the female lead of a drama generally seem a little shabby in comparison. The antagonists killer outfits always fit in well with their scheming and general discontent as it keeps them looking aloof and arrogant. These characters always tend to be my favourites as despite all their personality flaws, they have their own personal style down pat! And remember, if you want to copy their style, add a clutch bag and some statement jewellery for wow factor.
Before I go, I want to know…who's your favourite bad girl from a drama?
Until next time!
Bright Pink Waterfall Blazer – New Look (£24.99)
Blue Floral Embroidered Crop Tank Top – River Island (£20.00)
Pink Textured Wrap Mini Skirt – New Look (£17.99)
Honorina Snakeskin Platform Sandals in white – Missguided.com (£39.99)
Fabric Wrapped Necklace – TopShop (£16.50)
Pink Floral Print Bodycon Dress – New Look (£27.99)
Four Row Beaded Collar – TopShop (£20.00)
White Embellished Collar Sleeveless Shirt – River Island (£32.00)
White Peep Toe Platform Sandals – River Island (£50.00)
Blue Curved Hem Skort – River Island (£28.00)
Rosaleza Monochrome Cropped Scuba Blazer – Missguided.com (£19.99)