GOT7 have recently made a comeback with 'Stop Stop It', releasing their music video just a few days ago. The track has a very upbeat vibe and the style of this video channels the 90s looks exhibited by first generation K-Pop idols. This makes it a very interesting and unusual style for 2014, but nonetheless a quirky and simple look to take inspiration from!
You can watch the music video below if you haven't already:
It's fair to say that this style may not be everyone's cup of tea, after all, how many people wear dungarees nowadays? However, there are elements from it that, arguably, everyone can take on and make their own. Plus, the few dungarees you can get a hold of on the high street nowadays often have a modern and stylish twist to them.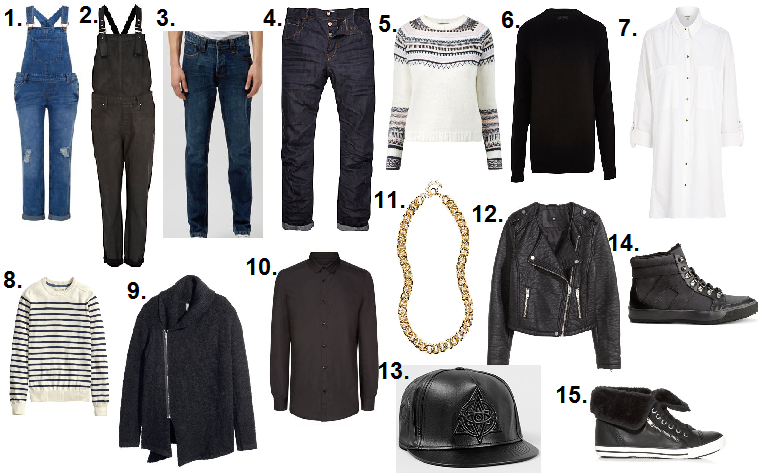 Women's Blue Denim Slim Fit Boyfriend Dungarees – New Look: £29.99
Women's Black Coated Dungarees – River Island: £15
Men's Navy Straight Leg Jeans – New Look: £24.99
Men's Dark Wash Curtis Slouch Jeans – River Island: £50
Women's Fairisale Yoke Jumper – New Look: £22.99
Men's Black Elbow Patch Crew Neck Jumper – River Island: £20
Women's White Loose Fit Poplin Shirt – River Island:£25
Men's Fine-knit Jumper – H&M: £14.99
Men's Marled Cardigan – H&M:£29.99
Men's Black Embroidered Collar Long Sleeve Shirt – New Look: £19.99
Gold Tone Chunky Curb Chain Necklace – River Island: £12
Women's Biker Jacket – H&M: £20
Black Leather Look Snapback Cap – Topman: £16
Men's Trainers – H&M: £34:99
Women's Black Faux Fur Cuff Leather- Look Trainers – New Look: £19.99
This is a look that will keep you warm and comfortable throughout the colder months and is full of versatile items that should last you a long time.
|| If you are interested in any of the suggested items, please search for them in the respective online stores! ||
What do you think of this style/article?
Please let us know your opinions!
[Sources: New Look Website, River Island Website, H&M GB Website, Topman Website].