If you were asked to give one word to describe Girl's Generation's music video for 'Lion Heart',  you might say 'retro'. We see the girls dressed in outfits inspired by fashion from the 1930s right up to the 70s, each showing a classy feminine image. Today, we explore how you can emulate this style for yourself with high street brands.

Take a look at the beautiful outfits shown in the MV below:
Whilst all the looks are incredibly ladylike, there are still many styles to choose from, so hopefully you can find something that you will like among the suggestions. A lot of the outfits have bold, floral prints. If you are not into the big, swing dresses or flowing skirts, you can still get a very chic and retro vibe from some high-waisted shorts or trousers.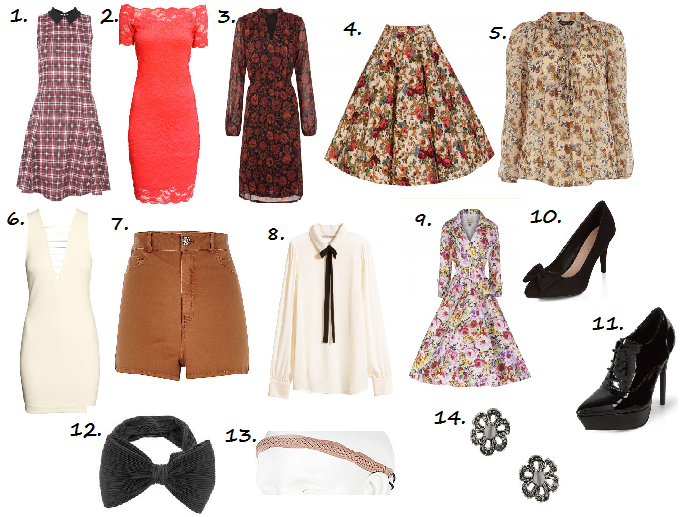 Red Contrast Collar Check Skater Dress – New Look: £19.99
Coral Red Off-The- Shoulder Lace Dress – H&M UK: £12
Black Floral Print Midi Shirt Dress – New Look: £24.99
'Peggy' Vintage 1950's Style Beige Floral Full Circle Skirt – LindyBop: £19.99
Ditsy Floral Print Pussybow Blouse – Dorothy Perkins: £18.75
Natural White Sleeveless Dress – H&M UK: £24.99
Brown high waisted Nori shorts – River Island: £25
White Crepe Blouse – H&M UK: £19.99
'Vivi' English Rose Pink Floral Dress – LindyBop: £34.99
Wide FIt Black Bow Pointed Mid Heels – New Look: £17.99
Black Patent Pointed Lace Up Shoe Boots – New Look: £29.99
Oversized Ribbed Headband – Topshop: £10
Pink Plaited Hairband – River Island: £8
Silver Flower Stone Earrings – Dorothy Perkins: £4.87
Heels would probably work best with this style, but flat pumps or even a pair of brogues could also suit these outfits quite well. Finish off the look with a pretty headband and some sparkly jewellery, and you will be looking just as glamourous as the Girls' Generation ladies!
-| Like any of the suggested items? They can all be found on the respective online stores! |-
[Sources: New Look Website, H&M UK Website, LindyBop Website, Dorothy Perkins Website, River Island Website, Topshop Website].