Bangtan Boys (a.k.a BTS) have been enjoying an awful lot of popularity lately, so what better way to celebrate than by using their latest MV for our fashion inspiration?!
Here is the video for 'Save Me' (check out that great choreography too!):
This style is extremely casual and perfect for both males and females. It has a comfortability factor which means it would be great to wear when lounging around, but also a hint of effortless style that gives it a slight edginess and means you can also rock it out in public.
ARMYs will already be familiar with some of Bangtan's signature looks and styles when it comes to their clothing. Black skinny jeans with rips at the knee are a staple for them, as well as black and white colours and big, bold prints.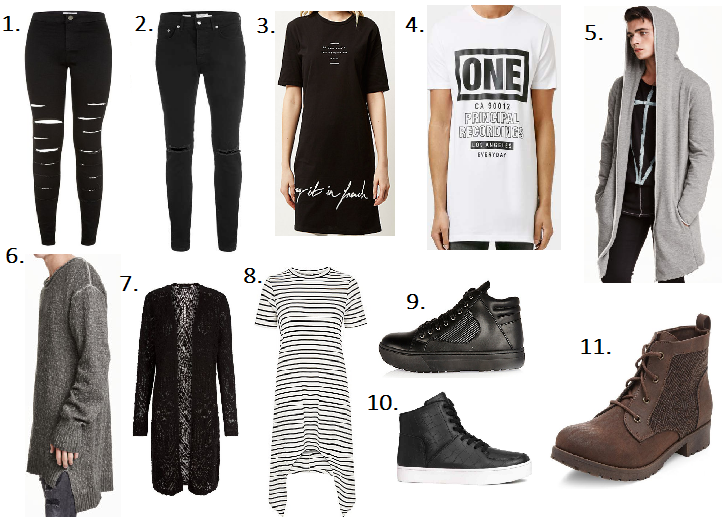 Women's Black Extreme Ripped High Waisted Super Skinny Jeans – New Look: £24.99
Men's Black Ripped Knee Stretch Skinny Fit Jeans – Topman: £40
Women's Black French slogan print oversized t-shirt – River Island: £10
Men's Black One Recording Print Longline T-Shirt – Topman: £18
Men's Sweatshirt Cardigan [Grey] – H&M UK: £29.99
Men's Knitted Jumper – H&M UK: £24.99
Women's Black Pointelle Lace Slub Cardigan – New Look: £22.99
Women's White stripe longline hanky hem t-shirt – River Island: £28
Men's Black textured high top trainers – River Island: £20
Women's Trainers – H&M UK: £29.99
Women's Wide Fit Tan Tweed Panel Lace Up Ankle Boots – New Look: £17
Go for oversized or longline tops to give you that baggy and casual vibe. The BTS members have layered themselves up a little with long-sleeved cardigans and hooded tops. Choosing an extra-long sleeve that will cover your palms (as the guys have here) will add to that comforting quality and keep your fingers warm during colder snaps we will undoubtedly experience during the run up to summer.
SEE ALSO: [Fashion] K-Con Outfit Ideas – Pt 1
In terms of footwear, we can see a mix of black trainers and brown boots in the video. British high street stores have quite a selection of casual shoes and boots available at a fairly good price. Of course, you could also invest in some brand name shoes like a pair of Converse or brown Timberland boots (another BTS favourite) if your bank balance allows for it. It is usually advisable to invest in a good quality pair of boots, as they will often last you a good while with little extra care necessary.
SEE ALSO: [Fashion] K-Con Outfit Ideas – Pt 2
BTS finish off their looks with very minimal jewellery and accessories. If you wanted, you could take a leaf out of their book and add a thin, gold or silver chain and some simple stud earrings to maintain that effortless-yet-cool style.
[Sources: New Look Website, Topman Website, River Island Website, H&M UK Website].