Wonder Girls have been around for nearly a decade, with the member changes and a short hiatus later, they've gradually developed their own unique musical style as they recently made their comeback with a reggae pop title track 'Why So Lonely'.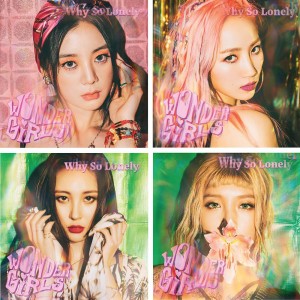 The JYP girl group have released a reggae pop song, as they've drifted away from the mainstream dub-step style that's currently dominating the K-pop industry with a new sound. Though, having said that, they're maintaining the retro concept from last year with 'Reboot'.
The song itself is coated with vibes of disappointment, not having expectations of the relationship met. Even in the shape of various dramas and movies, there is often the 'ideal' relationship that some strive for. Though, there never is a 'perfect' relationship. Rather, it can be a matter of compromise.
---
"I want love, something like
what you can see in a sweet love story."

The cinematography style seems to be a continuation of their MV from last year 'I Feel You', as well as the members all collectively shown in some scenes playing their assigned instruments. It's can be quite suggestive and sultry at times. The fashion and production has a retro vibe, like once again  following on from their last concept. The actions of the girls mirror the lyrics, the frustration that their expectations of the relationship were not met, instead it felt one-sided. Which isn't how healthy relationships work, though in reality, that's sometimes how it comes to be.
"I'm blinded by love
And so should you."