If you're a regular reader of UnitedKpop, or follow our social networking presence you may have seen mention of BritROK. It's about time we properly introduced you to UnitedKpop's rowdy little brother.
The idea of BritROK was born around three years ago when I (Lore, UnitedKpop's COO and Head of Design) was bored of writing about Kpop. At the time that distant idea didn't at all include UnitedKpop, but it soon would.
Fast forward another year and I became the COO, and that little idea was still growing. Somewhat not wanting to push my luck with my new position, I never gave Freya (CEO and founder) the proposal I wrote for an indie platform. Instead I began to reach out to indie bands in the hope that I could create interesting new content for UnitedKpop that spotlighted the rich indie music scene hidden in South Korea.
I found myself feeling I had to ask artists questions such their feelings towards Kpop's dominance over the music industry in Korea to keep content relevant, but this is never what I had wanted for this content. Though, that is not to say the feature didn't create great content; some of my highlights of 2015 with UnitedKpop include an interview with Manju Pocket, and being able to meet and talk with punk fashion designer Bajowoo.
I wanted our indie content to be different. I wanted to capture the passion, and the craft, of independent musicians; and I wanted to do it without the mention of Kpop.
It was on March 13th 2016 that BritROK was officially born, during a conversation with Freya about the first indie promoter I worked with at UnitedKpop, a promoter that to this day still brings us amazing content. Though it was two days later I gave it the name I'd long been silently keeping:

BritROK was created to be UnitedKpop's dedicated platform for independent music. Independent music is a very wide umbrella, but it means BritROK can realistically cover anything that is outside of the mainstream. I created BritROK to cover the artists whose voice is much smaller than the alternate acts who have found a foothold in the mainstream (artists such as Nell and Jay Park). That is also why BritROK content isn't mixed in with the rest of UnitedKpop, we have our own section on the website: britrok.unitedkpop.com; and our own Facebook, Twitter, and Instagram pages.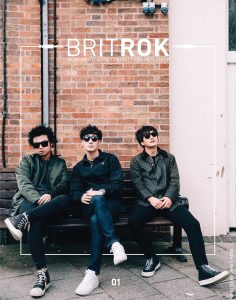 There isn't a dedicated UK platform for independent Korean artists, despite the UK having a thriving indie music scene of its own that is seeing more and more Korean artists tour. There are a small number of people in the tiny circle of K-Music journalists here in the UK that fly the flag for independent artists – but no one with much impact. So why not use the voice of the UK's main Kpop news source to kick start something?
In just five months we've published numerous interviews, seen a whole host of artists play shows, covered a festival, and included our own section in the UKP Magazine. And we have plenty of interesting content ahead, including exclusive coverage from Hongdae's impressive music showcase festival Zandari Festa. 
BritROK needs to be different from UnitedKpop and the rest of the UK's Kpop media, it needs to display that same passion and craft shown by the artists it covers. It must let artists tell their story in the way they want to tell it.
I have big dreams and ideas for BritROK, and in an ideal world I'll fulfil them all; but BritROK is as indie as the content it provides, and to grow BritROK needs you.
You're never going to like every single band or artist BritROK makes noise about, but you never know, you could find your future favourite band here. BritROK, both as an idea and a reality, has had me discover bands I now consider favourites and people I now consider friends; and you can be a part of that too!
So why not join our noisy adventure?
Like BritROK on facebook
Like BritROK on Twitter
If you are an artist or promoter in the Korean indie music scene and would like BritROK to feature your work get in touch! We'll also be in Seoul between September 26th and October 18th so why not tell us where to see you play live, we'll be there and we'll write about your show! You can email Lore in English, or Korean, and we'll get back to you!