The Nation's Little Sister, IU made her return this week with the coming-of-age album, Palette and her highly anticipated collaboration with G-Dragon of the same name. However, despite crooning over turning 25 alongside K-Pop royalty, she has one more trick up her sleeve with a special drama video for ballad, "Ending Scene".
The video comes as a special treat as IU has personally recruited actor, Kim Soo Hyun to be male lead along side her in this special dramatized edition of the track. Fans already know of their friendship off-screen and also their chemistry on-screen in big shows such as Dream High and Producer, so it was highly anticipated when announced days before Palette's official release.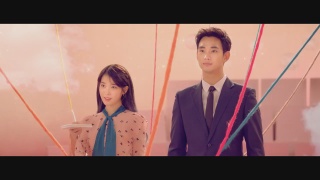 The story behind this pays homage to the song's English title: "Ending Scene", with IU and Soo Hyun in a place that appears to be a cinema theater, laced with clouds and colorful string tied to each of their limbs as IU presses play on a movie. However, this is nothing like a movie date as they are watching back the memories of their relationship, skipping from their first meeting to multiple dates and also their first kiss.
All does seem happy and cheerful with the use of bright colors and whimsical effects to mirror their storybook romance with each passing date and tender moment together. Playing out as scenes back to what appears to be a dream workd, Soo Hyun is laughing along and smiling as if its a real movie but IU shows a different reaction, as if the memories are bittersweet to her or that it hurts for her to remember them at all. Throughout the video, she harnesses a remote to switch through them, and to also rewind the memories back as if they never happened; with each memory ending with Soo Hyun speaking with the lyrics to the song, and asking her to be happy although parting will bring pain for both of them.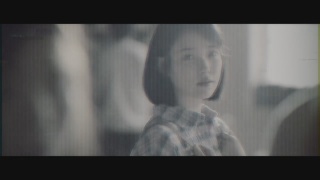 Continuing through the later scenes of their love life, we get a glimpse why IU feels this way and the reason she tries to rewind the scenes back. Despite the happy moments the duo share together, the relationship somehow comes to an abrupt end. There is no real indication what exactly happened for it to be in such a way, but before long there are several indications that the movie is in fact memories to IU. One pinnacle moment highlights the sudden loss, in the midst of what appears to be a cute breakfast together but as IU continues talking away and smiling, Soo Hyun simply fades away from existence while she is left on her own sitting at the table.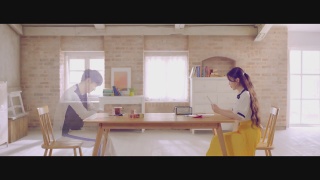 Although the couple movie plays a big part, there is one form of imagery that is poignant to how the story progresses. In the dream theater, the two are connected by colorful string, being held up among the clouds as they watch the film together. However, Soo Hyun also suffers in this case, falling limp and weak as if IU is slowly losing him altogether.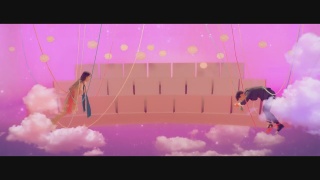 The string acts in two ways; first linking back to the myth of the Red String of Fate. All the strings connect to both IU and Soo Hyun; noting how they are destined to be lovers. The myth speaks that regardless of place, time, or circumstances, the string will never break and marks their unity as a couple and reflecting the emotions of the movie scenes back to the real world. However, the strings also link back to another myth named the Thread of Life, which speaks of fate spinning the strings that connect together but also has the ability to cut them, ending a life.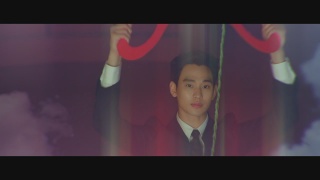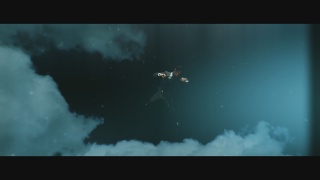 In this case, the life being cut short could be questioned as both their relationship and possibly Soo Hyun too. Linking back to his disappearance and how he floats away from the last string, it could be suggested that IU lost him by natural methods and not by a simple break up. IU has to cope with the loss while Soo Hyun is ultimately oblivious in the dream world until the last moment when he cuts his own strings. With movie Soo Hyun speaking the lyrics throughout, it could also refer to him speaking to her in spirit, begging her to be happier. However, IU lives in bittersweet memory and must witness Soo Hyun drift away from her.
The final scenes sees IU contemplate drifting away with him, holding the scissors to her own string as the video goes through various static and cutting off as she proceeds to do so. Bear in mind, there is no official confirmation that it is either breaking away from the dream of a relationship or follows similar patterns to the Thread of Life myth but overall, this special music video brings together the trademark of IU's ballads; whimsical, charming but still carries emotion in a creative way that can't help but tug at your heartstrings. With the addition of Kim Soo Hyun reliving the chemistry they shared in many dramas, "Ending Scene" just shows that the soloist is still on top form both as an actress and as a creative artist.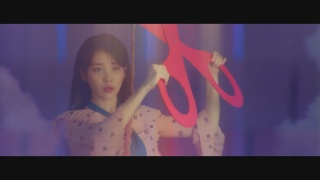 What do you think of "Ending Scene"? Do you have your own theories? Let us know in the comments and don't forget to check out IU's new album, Palette which is now available to download on iTunes.