BoA is known as a pioneer on the modern K-Pop scene, and with her career now in its seventeenth year, she is indeed quite the veteran!
Today, we are checking out her recent music video release for 'CAMO' to supply us with some fashion ideas.
Here is the MV:
BoA is a woman that does not feel the need to dress girly and feminine all the time. She is an artist that gets fully involved with the choreography and isn't afraid to show her power and strength through her moves.
Having said this though, she can still show off her femininity when she wants. 'CAMO' features sparkly dresses and statement earrings, as well as trainers and a military jacket.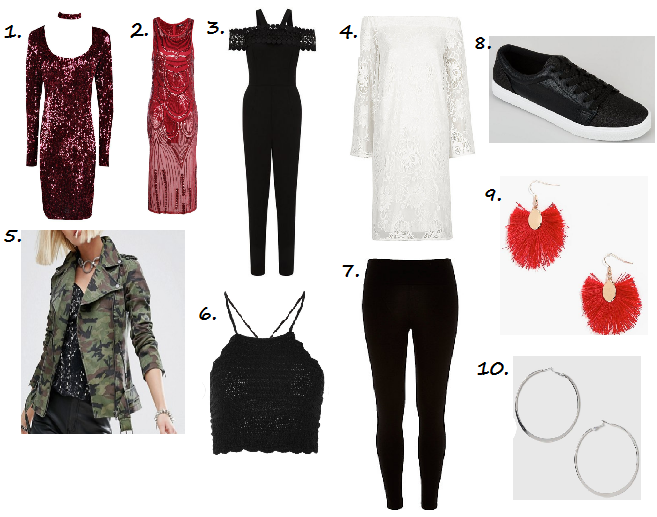 Boutique Bria Choker Sequin Bodycon Dress [Colour: Berry] – boohoo.com: £18
Boutique Ali Sequin Midi Dress with Bodysuit [Colour: Berry] boohoo.com: £15
Black Crochet Lace Trim Jumpsuit – New Look: £34.99
White Lace Bardot Swing Dress (Online Exclusive): River Island: £17
Tripp NYC Moto Jacket in Camo Print – ASOS: £48
Summer Nights Black Crop Top by WYLDR – Topshop: £22
Black high Waisted Leggings – River Island: £10
Black Glitter Contrast Sole Trainers – New Look: £18.99
Nicole Fringed Tassel Earrings [Colour: Red] – boohoo.com: £6
Flat Hoop Earrings: Topshop: £4.50
Of course, the main colours of this particular look are red and black, which are easy to match with many types of black or white footwear. You could go with a high heel, or perhaps, a stylish gladiator sandal.
BoA is a fan of the simple hoop earring, but is also seen in this MV with an extravagant red tassel pair too. Don't be afraid to add some statement accessories to finish off your outfit!
[Sources: boohoo.com, New Look Website, River Island Website, ASOS Website, Topshop Website].