For those unfamiliar, ELRIS are a 5 member girl group that debuted earlier this year. Today, we are looking at how we can 'Get the Look' from their latest MV 'Pow Pow'!
Here is the MV:
As you can see, the girls embrace a very feminine and cool style. The main ideas are big, block colours and bold prints.
Each member seems to have their own colour scheme and twist on the look too. This gives a feeling of individuality, despite the overall uniformity of the concept (a common technique used with K-Pop groups).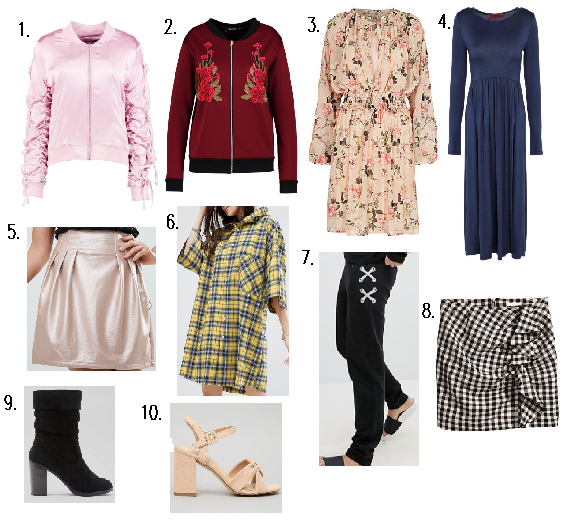 Cynthia Ruched Satin Bomber Jacket [Colour: Antique Rose] – boohoo.com: £15
Plus Jemima Floral Applique Bomber [Colour: Burgundy]- boohoo.com: £25
Pink Floral Print Long Sleeve Smock Dress – River Island: £17
Mia Long Sleeve Midi Dress [Colour: Ink] – boohoo.com: £15
ASOS High Waisted Mini Skirt in Metallic [Colour: Blush] – ASOS: £16
Reclaimed Vintage Inspired Hooded Shirt Dress In Check – ASOS: £45
ASOS LOUNGE Lace Up Jogger – ASOS: £22
Ruffled skirt [Black/White/Checked] – H&M UK: £9.99
Black Suedette Slouchy Block Heel Mid Calf Boots – New Look: £34.99
Nude Pink Comfort Suedette Cross Strap Block Heels – New Look: £25.99
Go for bright bomber jackets, floral or printed dresses/skirts or a cool pair of joggers, and you have essentially got the base of this look. The members then complete the outfits with equally colourful socks and high heels, but some flat ankle boots or pumps would also work really well.
This is another K-Pop look that is not for the faint of heart, so don't be afraid to go for it with the colours and just have fun!
[Sources: boohoo.com, River Island Website, ASOS Website, H&M UK Website, New Look Website].