HIGHLIGHT's Lee Kikwang has made a return to us as a soloist (the first time since his days as AJ), and released an MV for 'What You Like'!
Let's see how you can 'Get the Look' for yourself!
Here is the MV:
Kikwang wears some bright, printed shirts here and pairs them with some simple jeans. This means that all the focus can remain on your top half, and it allows you to really go for it with the style of your shirt. Kikwang seems to prefer red for as his chosen colour, but of course, you can go for whatever you like! There a various patterns and prints available, so you can have a lot of fun with it.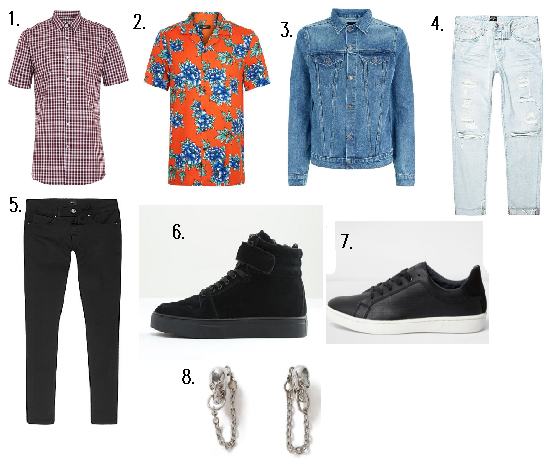 Burgundy Check Muscle Fit Casual Shirt – Topman: £25
Red Tropical Floral Print Short Sleeve Shirt – New Look: £8
Blue Denim Jacket – New Look: £29.99
Light Blue Wash Cody Ripped Loose Fit Jeans – River Island: £40
Black Ollie Super Skinny Spray On Jeans – River Island: £40
KG Kurt Geiger Anderson Suede Hi Top Trainers – ASOS: £45
Black Textured Lace-up Trainers – River Island: £20
Silver Skull Chain Earrings – Topman: £6.50
The look is finished off with black and white trainers, to which Kikwang adds some colourful laces. He also wears a cool chain earring, keeping his style masculine, yet fashionable.
[Sources: Topman Website, New Look Website, River Island Website, ASOS Website].