Welcome back to another Fun Story OTW! This week, we have a very special story only making not only ELFs but every other K-Pop fan turn with complete happiness and shock. It would seem that just on Sunday 6th April, Super Junior's very own Choi Siwon has taken some time out of his busy schedule filming for his new movie by spending time in Beijing in China to celebrate the birthday of one of his closest friends at the concert and fanmeet of the one and only Jackie Chan!
Siwon and Jackie Chan have already been well recognised to being rather close with each other, with that said as Hangeng is one of China's famous stars, it isn't a surprise the two of them chanced upon each other at the event.
The aforementioned film star held a 'Peace & Love and Friendship' and fanmeet and it wasn't only Siwon who was invited on the guest list. EXO who held a concert appeared to celebrate the movie star's 60th birthday as well as Lee Byunghun, Zhang Li Yin, Jay Chou, Jang Woohyuk, Yoo Seungjoon and Jang Seohee were amongst many of famous faces seen at the event.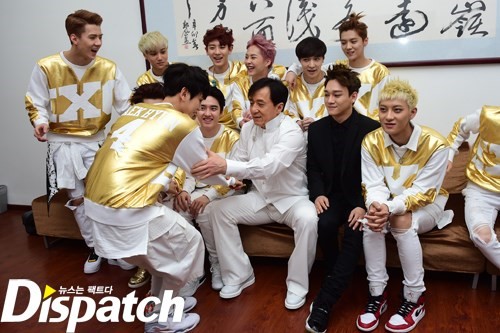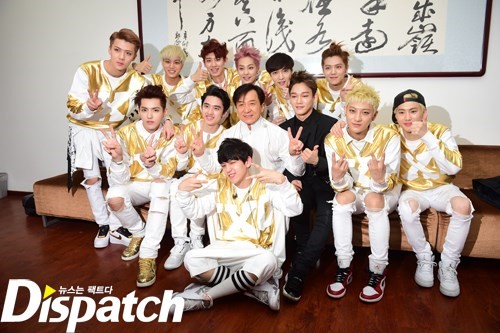 As huge amount of top celebrities attended the event one other special guest was invited to the event. China's own music and film star Hangeng!
Hangeng (or Hankyung in Korean), was a former Super Junior member who left due to complications with his contract and treatment with SM Entertainment, Super Junior's record label, to which was officially terminated along with his leave of the group in the late 2009. This also resulted in Hangeng returning to China in order to fulfil his means of becoming a singer and actor in China, that of which he is now and one of the most famous in the country as well as recognised internationally for his talent and fame.
It has been known among both ELFs and fans that there has never been any spotting of, mentioning, picture or video of the members of Super Junior or Hangeng interacting or meeting since the dispute upon Hangeng's departure of the group and it would seem that this would be the first officially reported and recognised meeting of the two members since the controversy.
Check out the video of the two's adorable interaction here!
The full video of the event can also be seen here! (The moment seen at 3:12)
What do you think of their adorable meeting?
Let us know in the comments!
Until next time for another Fun Story!